Nature Made Prenatal Folic Acid 90 Tablets
Provides daily nutritional support before and during pregnancy.
†
 Specially formulated to support the development of your baby's brain, nervous system, bones and eyes, it's big support for your little one.
†
Creating new life creates new nutritional needs too. And Nature Made® Multi Prenatal tablets are specially formulated to provide the nutritional support you need while you're trying to become pregnant and throughout your pregnancy†. Our prenatal vitamin formula provides key nutrients such as folic acid and iron. And it also contains other important nutrients including zinc and vitamins A, C, D3 and E. Nature Made Multi Prenatal tablet is USP verified, so you can feel confident that you are choosing a high quality prenatal vitamin supplement.
Contains essential vitamins and minerals along with omega-3 fatty acids, EPA and DHA, to support nutrient needs of nursing moms and their babies†
DHA: may help support fetal brain and eye development†
B vitamins (thiamin, riboflavin, niacin, vitamin B6, folic acid, vitamin B12): support cellular energy production†
Only 1 softgel per day
Nature Made® Postnatal Multi + 200 mg DHA is guaranteed to meet our high quality standards. It's made from carefully selected ingredients under strict manufacturing processes.
What's in our Prenatal Multivitamin Tablets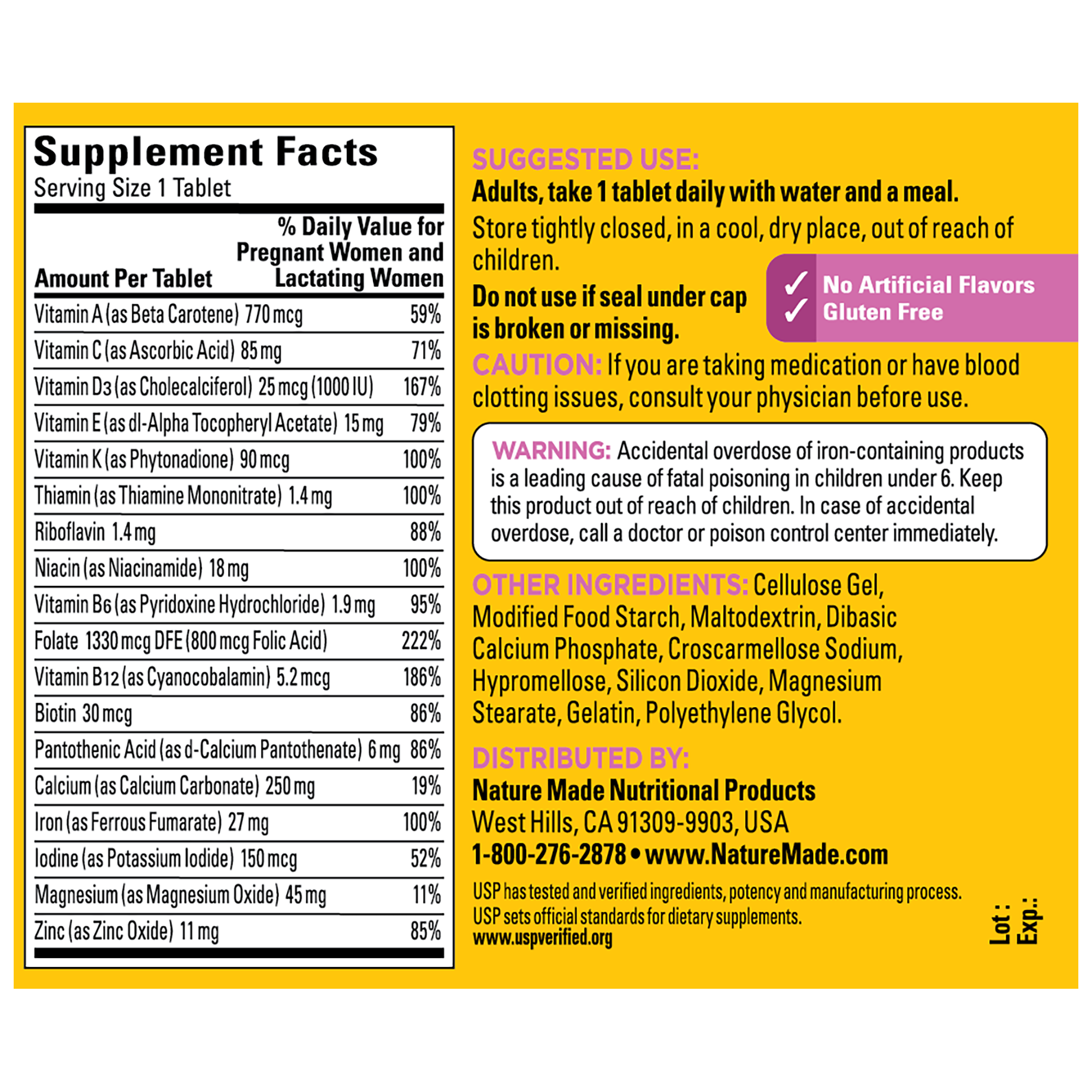 Suggested Use: Adults, take 1 tablet daily with water and a meal.
Expiry Date Sep/2024